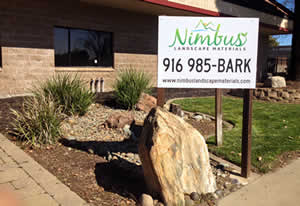 At Nimbus Landscape Materials, we carry all of the items you will need for your landscaping needs in the Sacramento region. Our inventory is constantly growing and the bulk products we have in stock are listed below.
If you have any questions, please give us a call at 916-985-BARK , 7 days a week to ask about pricing and availability of whatever you need.

To see photos and descriptions of our products, please click the following links:
Product Listing:
NEW:

DRAINAGE SUPPLIES

We are now carrying drainage supplies like perforated drain hose, catch basins and much more. Call or stop by for details.
SOIL
PLANTER MIX 40%COMPOST 50%TS 10%SAND
VEGGIE MIX  60%COMPOST 30%TS 10%SAND
HIGH NOON
NURSERY CONTAINER MIX
COMPOSTS
HUMUS
MUSHROOM
WORM CASTING
BARKS
BLACK MULCH
BROWN MULCH
RED MULCH
PLAYGROUND FIBER
SHREDDED CEDAR
SHREDDED REDWOOD
SMALL BARK (DOUGLAS FIR) ½"-1-1/2"
MEDIUM BARK (DOUGLAS FIR) 1"-3-1/2"
WALK ON
ROCKS
BLACK HILLS CRUSHED ¾"
BROWN LAVA ¾"
COBBLES -SMALL – LARGE MIX 3"-16"
CON MIX ¾"
ROAD BASE ¾"
CRUSHED ½"
CRUSHED ¾"
DECOMPOSED GRANITE (GOLDEN)
GRAVEL ¾"
GRAVEL ¾" X 1-1/2"
GREEN ROCK ¾"
PEA GRAVEL 3/8"
SALT AND PEPPER 3/8"
SALT AND PEPPER ¾"
SALT AND PEPPER 1-1/2"
SANDS
FILL SAND
MASONRY SAND (WASHED FINE)
PLASTER SAND (WASHED COURSE)